The Return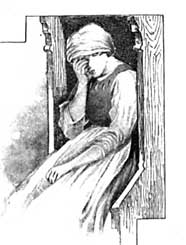 The months following Tom's death were indescribably painful and grievous. Sarah Catherine was hysterical until she wore herself down into a sobbing mess. No one could comfort her. After the funeral, she shut herself in her room and often, a primordial wail could be heard from there.
They buried Tom on a high hill above the farmhouse and Sarah Catherine spent most of her days there beside the grave. At first, Port coddled her in every way he could. He made a bench beside the grave so she could sit there. He spent time there with her. Mattie cut wild flowers from the fields and they took vases of flowers to the grave every day.
Living had basically come to a stop for awhile. Then, the rest of the family began to move on. The foundation was repaired and the two houses remained joined in their new positions. Mattie cooked for both families and took care of Albert and Rosa Ella as well as Owen. The boys kept their distance from Sarah Catherine but made her little trinkets of this and that and brought her gifts. It didn't help.
Summer wore on. Port and Billy replanted corn where the cotton had been for an early crop. It seemed to be doing well. The boys didn't have to chop cotton anymore and they spent more time at the swimming hole but someone was missing and it made life sad for them. Meals were especially sad.
Then, late one morning, Sarah Catherine came back to the house from the grave and she was humming. Mattie was preparing lunch for the men folk when Sarah Catherine came in. She took off her bonnet and joined Mattie at the kitchen table. She continued humming and began setting the table. Mattie was surprised to see Sarah behaving in an almost normal manner again.
"Well, you are looking good today, Sarah Catherine. Would you like to set the meat on the table?" Mattie picked up the platter of meat to hand to Sarah Catherine. Sarah didn't seem to hear her and kept humming. Mattie shrugged and put the meat on the table herself.
"I was talking to Tom this morning," Sarah said almost matter of fact. "He wants to go swimming with the boys this afternoon. Do you think it would be all right? His head is almost healed now."
Mattie stopped dead in her tracks, then tried to respond normally to Sarah. "Why, I guess so, Sarah." Mattie closed her arms around Sarah and said, "Are you all right, Sarah? It's awfully hot out there by the grave. Maybe you should lie down and rest for a spell." Sarah looked pleased at Mattie and said, "Oh, all right."
They walked into Sarah's bedroom and Sarah lay down, obedient to Mattie's suggestion. "I'll get a cool cloth for your head, Sarah," and Mattie left the room. She quickly wet a cool cloth and returned to Sarah and put it on her head. "Why don't you sleep for awhile," Mattie added and Sarah closed her eyes, still smiling.
Mattie closed the bedroom door and turned to see Port standing in the living room. She hurried to Port and whispered what had just happened. "Maybe I should get the doctor again," he said and left.
The doctor confined Sarah to bed for several days and forbid her to go to the grave. Mattie assured Sarah that she would visit the grave for her and take Tom flowers. Sarah seemed to be in a surreal spirit world with Tom where she conversed with him constantly.
As the summer passed into fall, it was clear that Sarah needed a change of scenery. Port decided that he should take her back to her home in Kiowa where her parents still lived. They could stay with them for an undetermined amount of time until Sarah recovered.
They talked about Billy running the farm, but by then, Billy was bursting to get back to Paucanla. This seemed like the right time to leave. Mattie was pregnant again and he wanted to be back there when her time came. New roads had been built at least part of the way to the south so that it would be an easier trip.
So, it was settled. Port found a family to lease his farm to and they left for Kiowa. Billy and Mattie and their boys finally headed back to Paucanla. It seemed to be God's will.
[Author's Note] The U.S. Census shows the William Mead family living in Paucanla, Indian Territory in 1900. A picture exists of the Paucanla School with several Mead boys in it. Family stories confirm that Allie Mead was a circuit rider music teacher who used the "shaped note" method of teaching music reading.