Paucanla, Indian Territory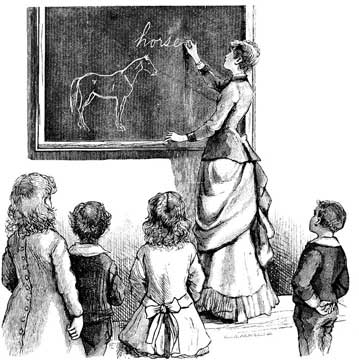 Everyone was happy to see Billy and Mattie return and they were bowled over at how all the boys had grown. Allie was a man of 20 years now; Worth was 14, Creight, 13, Clarence, 10, Mack 8, and Owen 4. Mattie was expecting her latest child in July of next year, 1895.
Bird and Sally had built a large house near the old, original log cabin. Bird's sister, Nancy and her husband, Parks White lived there too, along with Mary Ann Mead, Bird's mother. Bob Mead was still living in the log cabin, still a bachelor.
When Billy and Mattie first returned, there just wasn't room in the big house for them and five boys, so Bob offered to move out of the log cabin and allow them to have it. He moved into the back of Bird and Sally's house for the time being and Allie joined him as a bachelor brother.
The log cabin still had a dirt floor and a branch-and-mud-fireplace chimney that seemed to catch fire frequently. The living quarters consisted of a loft for the boys and an enclosed bedroom for Billy and Mattie. The main room was the living/dining room where the fireplace was located. Mattie would be cooking in the fireplace. However, most of the evening meals were shared with the rest of the family in the other house.
Billy promised to build Mattie a house as soon as possible. In time, he did build Mattie a fine wooden framed house. In the meantime, he told everyone, "Think of it this way. We live in a house just like Abraham Lincoln lived in!"
The cattle herd had grown to almost fifty cows and there was plenty of truck garden to feed the family. They had several hogs for meat as well. A dozen hens kept them well supplied with eggs and spring fryers and several milk cows provided them with milk.
The Chickasaw man, Joe Tiger, who leased the land to the Meads, was happy with what they were doing with the land. He and his wife, Obedience were good neighbors and often visited the Meads with fruit from the orchards or canned fruit. They often brought meat as well.
A school had been built at Paucanla and the Mead boys that were old enough-Worth, Creight, Clarence, and Mack would be going there as soon as they could get them enrolled. Owen was still too young. School had already started when they got back to Paucanla. They would be paying a dollar a month for each child to attend classes at the school.
Allie attended school there some because he felt he needed more math and reading. He was exceptionally talented in music and sometimes taught music to the students. He learned a method of teaching called "shaped notes" and eventually became what was called a circuit rider music teacher. Like preachers, music teachers would teach in a school for awhile and then travel to another nearby community and teach the shaped note system of music there. As he built up a clientele, he would travel from school to school as a circuit rider.
The school consisted of one room. Students that went there were of all different ages so that older students would assist younger students in learning. On any given day, there might be a cacophony of sound coming from the school room, but all were reciting their times tables or reading aloud to one or another helper. They didn't have paper and pencil then but did their "ciphering" on slate tablets.
The floor of the school was "puncheon"; logs that had been cut only on one side, so that the bark side was the underside and the cut side was turned up to make the floor. There were no desks in the school; just puncheon chairs where students put their books underneath. Eventually, a long plank table was built to serve as their study desk. The girls sat on one side and the boys on the other. A long plank divided the table and students stacked their books on that plank in between during study sessions. Someone was always knocking books off the plank.
The Mead boys were plenty smart but they didn't care for school. They didn't pay attention enough, but rather daydreamed or got into trouble for one thing or another. They were always getting into fights or clowning around and just being plain ornery. Only Allie seemed serious about his studies.
One day the teacher, Ms. McPherson explained that they were to have a spelling bee. The idea was to pit one side of the room against the other to see who was the best speller through a process of elimination. When everyone was lined up, she would call out a word and they were to spell it. If they spelled it incorrectly, they had to sit down.
Clarence didn't want to be in the spelling bee and he reluctantly stood in line when she called his name. His dislike for such things increased as she came closer to him in line. He was always trying to figure out some way to get out of that type of thing. When the teacher finally got to Clarence, she gave him the word "beach" to spell. Clarence thought a moment, smiled and then said, "Beach. B-i-t-c-h. Beach!" The class roared at this. The teacher pointed to Clarence's desk and said, "Sit down!"
Mack, on the other hand, was more amenable to such things. But when she got to him, he did little better. "Burglar," she said. Mack began with a "B" and from there, wandered through half of the alphabet! Everyone was snickering and the teacher was doing a slow burn. As he stumbled for another letter, the teacher said, "apostrophe---" and Mack thought he must have it right, so he added, "S!" "Sit down!" she commanded to Mack. And so it went with the Mead boys in school.