The Wedding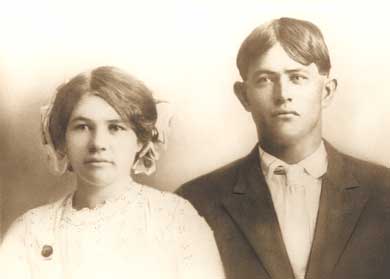 Dinner at the Ragsdale home went as well as could be expected. Owen was dressed fit to kill and he enacted every protocol he could think of toward Maude and the family. He brought flowers not only to Maude, but to Mrs. Ragsdale as well. During dinner, he piled on compliments for the excellent meal and the lovely family that had joined them. He made polite flirtations with the sisters, Lillie, Nettie, Ivy, and little Grace. He made polite man-talk to Mr. Ragsdale and the sons, Buddy and young Floyd. After dinner, he offered cigars to Mr. Ragsdale and Buddy. It was all for naught.

When the assessment was made by all the family members, later, Owen had failed. Mr. Ragsdale: "He doesn't seem to have a livelihood." Buddy: "I thought he was egotistical." Lillie: "He was good looking but I like John Brannum better!" Nettie: "He's better looking than John—but I like John better, too!" Ivy: "He was really cute! But John is nicer." And on it went. Only little Grace approved. "I like him!"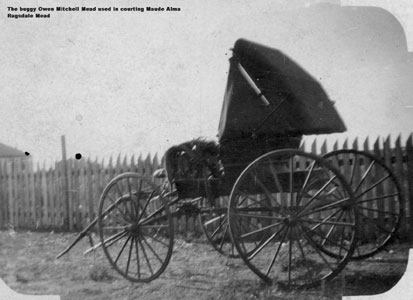 None of this mattered to Maude. She was more determined than ever to see Owen. That Sunday, Owen showed up to take Maude to church. There was a lot of sniffing and raised noses among the family members but it was totally ignored by Owen and Maude. Soon Owen's little "hug-me-tight" buggy was seen at Maude's house almost weekly and the living room of the Ragsdale farmhouse turned into "the parlor" where the couple spent numerous hours "visiting."
If there was a barn dance, Owen and Maude were there together. If there was a box supper, Maude's box always seemed to be bought by Owen as the highest bidder. If there was a school program or play, Maude and Owen went together.
And how did John Brannum feel about this? He didn't like it one bit. And neither did his best friend, Buddy Ragsdale, either. "Maudie" had always been John's girl—for as long as he could remember. They went to school together. They went to church together—at least they used to until this Owen guy showed up. Now, he could hardly see her at all!
One night as Owen was leaving Maude's house, three shadowy figures showed up in the road before Owen and stopped his horse. It was John, Buddy and another friend of the two. Owen could see who it was and he had a good feeling what this conversation was going to be about. Owen got off his horse and asked, "What is this about?"
Buddy spoke first. "Owen, you are seeing a lot of my sister these days. But you should know that she is spoken for. She and John Brannum have known each other a long time and Maude is John's girl."
Owen gave pause and said, "Well, I didn't know that. In fact, she has never mentioned John's name to me or said anything about being spoken for to John or anyone else."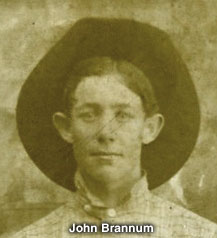 John spoke up. "Well, she is ! She's my girl and I don't appreciate you courtin' her. And I'm tellin' you right now to stop comin' over here and seein' her. She's mine."
Owen looked at John closely, in his eyes. He looked at Buddy who seemed to be taking a rather menacing stance behind John. The other guy had his fists doubled up. Owen smiled and said, "Look—John, Buddy. I don't have any complaint with you. I like you both. But you have to understand something. Maude has never asked me to stop coming to see her and until she does, I'm going to see her—and often!"
Owen turned to get back on his horse but John shoved him and said, "Not if I have anything to do with it!" and swung at Owen. Owen dodged his fist and came back hard on John's chin, knocking him to the ground. Buddy and the other guy jumped on Owen's back and began pummeling him. Owen was a very strong young man and he proceeded to throw off both men and gave them a sound beating.
When all three lay sprawled on the ground, Owen straightened his clothes and got on his horse. "Good evening, gentlemen," and he rode away.
Owen said nothing to Maude about the incident, and Buddy acted as if nothing had happened although he was even more cool toward Owen.
It became very clear to the entire Ragsdale and Mead families that Owen was in love with Maude and he was going to court her as long as she would see him. And Maude was taken with Owen, she wanted to see him and she was pretty sure she was in love with Owen. The Ragsdales began to accept Owen albeit keeping some distance from him—mostly because of Mr. Ragsdale.
Cornelius Ragsdale just didn't feel that Owen was worthy of Maude. He was a stranger to their community, always riding in from some distant place to see his daughter. And how was he going to take care of his daughter? His family lived some thirty miles away and he hardly had met them. It just wasn't proper.
Be that as it may, the fateful day came when Owen proposed to Maude and she consented. The wedding was to be at her home in Hollis on September 24, 1911. Since her father, Cornelius Ragsdale refused to give his daughter away, her brother Buddy was to do the honors.
Little Grace was to be the ring bearer and Maude's other sister, Lilliie would be her Maid of Honor. Ivy and Nettie were her flower girls. All was in place and the family and friends awaited the groom.
Several miles away, Owen was in a twit to get ready and get off to the wedding on time. He was a meticulous dresser and spent a little too long getting dressed. He had to hurry getting the horses hitched to the buggy as time seemed to be scurrying by. Finally, off he went in a huff. He switched the horses to hurry them on and they obliged him! They ran away with him!
By the time he got them stopped, he was sweaty and dirty from the dust they had stirred up. He was a mess! The only thing to do was to turn around and go back to the house for clean clothes. By the time he got on the road again, he was quite late to his own wedding.
Meanwhile, Maude waited, waited, and finally began to cry. Was he not coming? What else would happen? First her father, now this? Did he change his mind? Did something happen to him? She paced the floor and the tears flowed.
Then her mother, Viola came to the rescue. "Maudie. Look at me. It is going to be all right. Owen will get here. And we will wait until he comes. He is a good man. Don't worry about your Papa. He will get over this. You are going to marry Owen Mead and you will have a good life together. Now, let's get your face cleaned up. He will be here any minute."
And it was true. Owen did get there soon after. Buddy came to Maude's room and peeked in. "He's here," he smiled. Then, Buddy, her darling brother came into the room and hugged her. "Maude, I've been a cad about Owen and I apologize. I apologize for Papa and whole the family. From this day forward, Owen will be my brother." He smiled at her. "Now, let's go get you married to this guy!"
And so it was that Maude Alma Ragsdale and Owen Mitchell Mead exchanged vows on September 24, 1911 in Hollis, Oklahoma and they became Mr. and Mrs. Owen Mead. Another life and another family was beginning down a road of uncertainty but it certainly was filled with love.
Many years later, these two would celebrate fifty years of married life although the road would be long and difficult. Eight pregnancies, seven births, three babies who died within a month of their birth, and one son who would be killed in a gun accident at the age of sixteen—all, endured through a lifetime of hard work and little gain. They would live through The Great Depression, stand with their fellow Americans through two world wars, lose Buddy Ragsdale in the first great war, offer one of their sons for service in the second world war, and see their three living children grow into adulthood, marry, and bring nine more children into the world.
The hardships of the Civil War that befell Billy and Mattie Mead was a great turning point in the life of that family as well as that of Maude's family. But they endured and moved on until death took them all. They stood together—always—as The Family. The bonds that held them together was love and duty—always—to The Family. The Family is what gave these pioneers the strength of character, the love for each other, and the responsibility for—The Family. They helped to build this great land known as America. And as long as this great land stands, it will be because of the strength and love within—always—The Family.
[Author's Note] Owen Mead provided the story of his wedding day and the fact that Cornelius Ragsdale refused to give his daughter away.